How to combine dry herb & concentrate vaporizing with traditional bongs.
Yes – there is yet another way to consume your favourite cannabis strains without sacrificing the potency of bong hits or the health benefits of using a vaporizer.
Most of today's latest dry herb and THC extract vaporizers are designed with adjustable airflow, temperature settings, and modified mouthpieces – making it perfect for use on its own, or with a bong.
Just remember to adjust your device's settings accordingly to get optimal results.
Because this is a preferable combination for many cannabis users, we've gathered some of the best THC extract vaporizers that are compatible with waterpipes.
Davinci MIQRO Vaporizer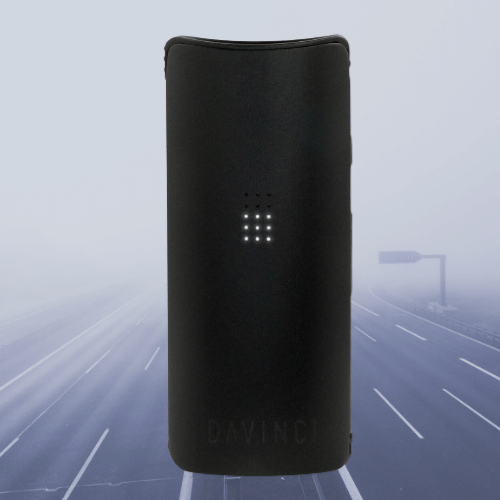 Say hello to the most compact and portable hand-held vaporizer from Davinci's lineup – the DAVINCI Miqro.
One of the best among most dry herb vaporizers.
This loose-leaf dry herb vaporizer ticks all the boxes when it comes to personalization:
Massive and removable 18350 battery
Adjustable cannabis heating chamber (size up or down)
Precision temperature control + smart paths
Use the Davinci Miqro vaporizer to your advantage and use it with a bong!
Pack yourself a bowl of your preference in size, adjust your temperature control to fit your current flower choice, and simply replace your traditional bowl with your DAVINCI Miqro.
You will need to insert and manually hold the device to the 20mm down-piece of your bong – just as you would hold a lighter to smoke the traditional way.
Tip: The extended mouthpiece works excellent for this purpose!
The all-ceramic air path of the Davinci Miqro has perfected the purest flavour available in a vaporizer today. Goodbye tar, hello flavour!
Davinci IQ2 Vaporizer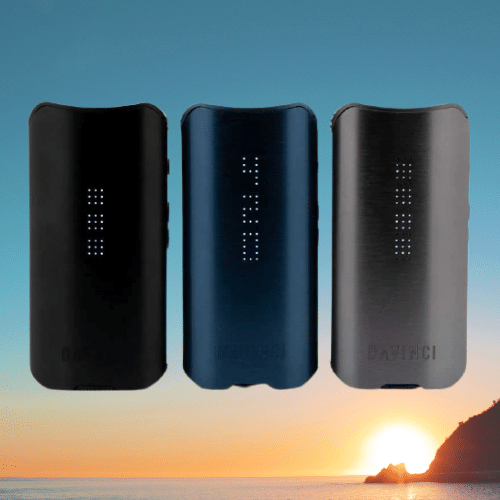 This is one for the connoisseurs. The DAVINCI IQ2 comes with just about everything dry herb and THC vaporizers have to offer today:
Extensively adjustable airflow
Precision temperature control
Dose control
Medical grade materials to maximize flavour quality
Easy to clean & built to last
Compatible mechanism for concentrates
The Davinci series continues its legacy of having exceptionally clean cannabis vaporizers, now with added air-dial and device dosage calculation.
Device dosage calculation
This brings about a whole new level of control over your vaping experience.
Ever wondered precisely how many cannabinoids you're consuming per session, or maybe per day? Look no further, friend.
Simply input your strain potency and the amount of ground-up flower in your chamber (on the device or the app), and watch your IQ2 report your dosage per draw, or per session.
Use it with a bong
Much like the Davinci Miqro and IQ devices, the IQ2 can easily be used with a bong. Simply replace your traditional bowl with your dry herb vaporizer (it has a perfect 20mm mouthpiece to fit) and enjoy.
Important: Remember to adjust your airflow and power delivery accordingly to optimize your smoking experience!
To conclude, the DAVINCI IQ2 offers superior flavour, vapor density, and overall design feel. It is a sturdy, compact dry herb & concentrate vaporizer that offers users maximum personalization while keeping premium quality materials as a top priority.
The Swiss Kit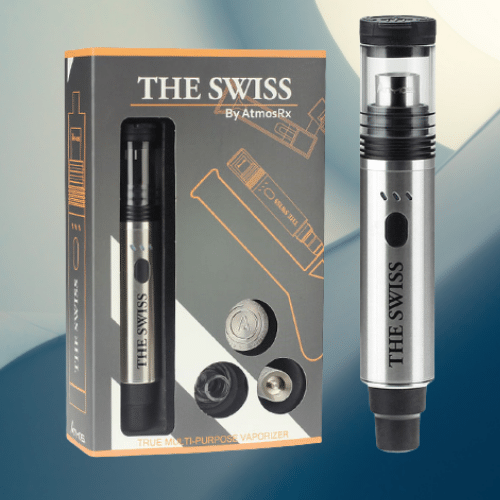 The super versatile Swiss Kit covers just about everything you might need, at home or on the go.
It can be used as either of the following:
A rig insert: fits any 14mm or 18mm female socket.
Independent dry herb & concentrate vaporizer
Simply swap out your top cap used for filling concentrates when smoking with a bong, for your included tank – now perfectly adapted to use as an independently operating vaporizer. It's that easy!
This device has a compatible heating chamber for every occasion, ranging from the studio rig to the Greedy and including the majority of 510 heating cartridges.
If you're someone who likes variety when consuming cannabis, do not want to spend too much dough on multiple devices, or has (even a slightly) unpredictable lifestyle – the Swiss Kit will do you wonders.
Frequently purchased extras
Extra 1100mAh battery
The swiss base stand
Gyro wax nail
Dry herb ceramic heating chamber
Other dry herbs & concentrate vaporizers compatible with bongs
Both these premium designs by Storz & Bickel offer an almost identical vaping experience in terms of vapor quality & thickness. The Mighty does have better battery life and a bigger packing chamber, and superior cooling due to its larger top piece.
Of course, both devices are compatible with bongs as long as you have the required aftermarket fittings (or mouthpiece)
Dry herb or Extract vapes with Water filtration:
And just when you thought it couldn't get any fancier; super portable THC concentrate vaporizers in the size and potency of your choice, with the added luxury of water filtration.
Check out the most popular devices on the market today:
Studio Rig Attachment System
This attachment device fits most box mods and mod batteries, enabling you to vape quality extracts at your leisure.
Simply replace your ordinary tank with this attachment device, and turn your box mod into a portable rig.
Dry herb or wax? Swap out your heating chamber with a high-grade titanium nail chamber for wax products and an embedded ceramic chamber for dry herbs.
The Studio Rig's glass attachment filtrates and cools vapor before moving it to the percolator to create smooth, powerful draws with any compatible mod.
Puffco: The Peak & Peak Pro
Puffco's Peak range is both revolutionary devices in themselves. The Puffco Peak was one of the first portable tabletop concentrate vaporizers and unlocked the true power of concentrates.
Sleek, enjoyable, faster, and easier to use than ever before – no wonder this is an award-winning device!
But, the Puffco Peak Pro takes the experience to a whole other level. It's regarded as the king of all dry herb vaporizers.
Keeping everything that made the Puffco Peak great, now with a 40% larger bowl, a bluetooth phone app for heating instructions and temperature control, and an improved ergonomic design.
Tip: The Bluetooth phone app can be used to preheat a device when you're not even in the room!
Exceed: Dabcool W2 & W3
Arguably one of the people's favourites – Exceed's Dabcool series. And it's not hard to see why!
Just fill up this portable and powerful little rig with your favourite concentrate, heat it with the touch of a button, wait 20 seconds and enjoy!
The Dabcool W2 offers users 4 temperature settings:
But, there's more. The Dabcool W3 takes portability and limitless concentrate vaping up another notch.
This hand-sized super portable device has a 20-second warm-up time and is practically used as a glorified straw to consume your concentrates. The device itself does not have a chamber to contain and heat concentrates but rather uses a warmed tip to filter vapor through its sleek glass design.
Simply heat your device with the touch of a button and remember to have your concentrates nearby!