Open vs. Closed Vape Systems, What's Better?
Ever since the modern-day e-cigarette came onto the scene a few years ago, the advancements made in the vape industry have far exceeded expectations. Regardless of the wide variety of vapes on the market currently the two base differences of interest the last while is between disposable pods and refillable pods. Without going into too much detail at this point, we are referring to the differences between disposable pod vapes and refillable pod vapes.
With both offering the same, and in some cases varying levels of vaping pleasure and satisfaction, it has become quite important to distinguish between the two for several reasons. 
At Vaperite we happily (and with a lot of pride) champion both types of vapes, so we felt it a good idea to compare the two and see exactly where the pros and cons of both lies. 
So before we go into the nitty-gritty, let's make clear the difference between disposable and refillable.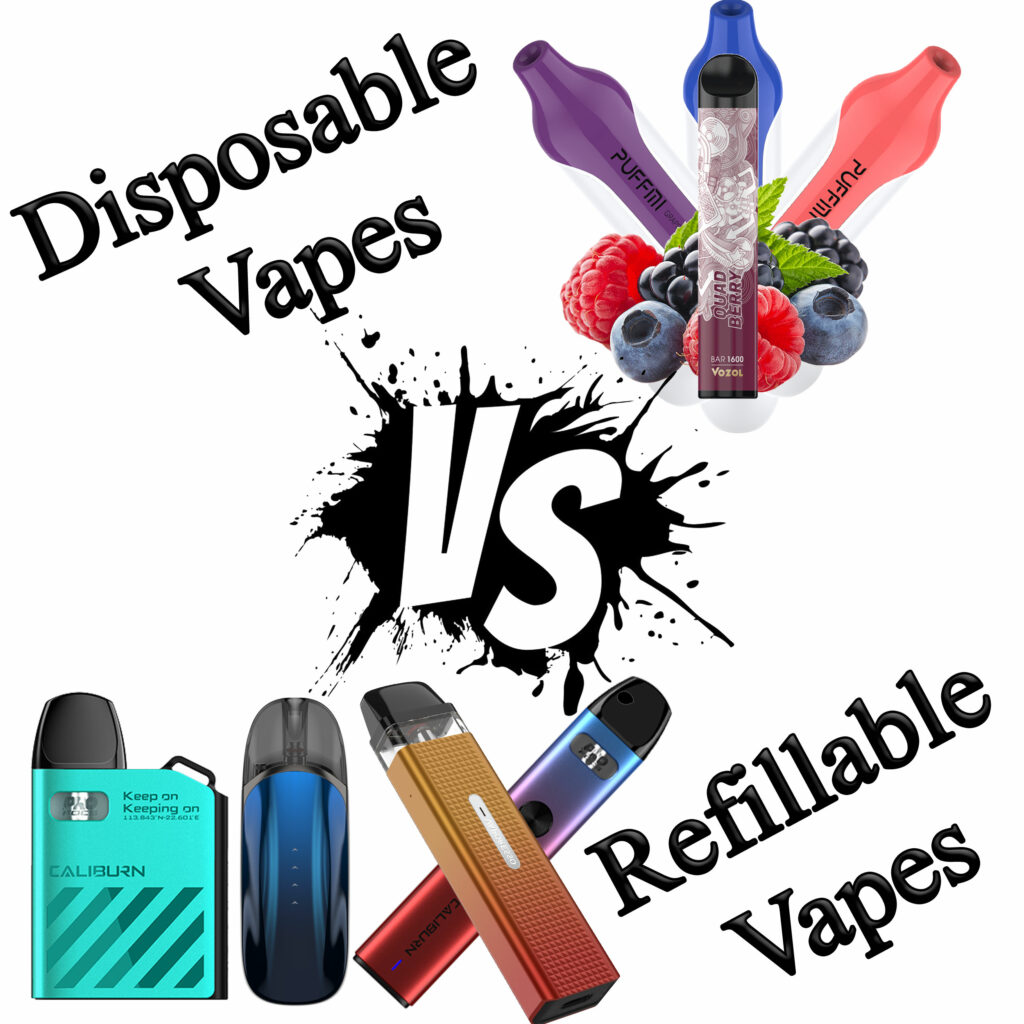 Disposable – One and Done?
As the name suggests a disposable pod vape refers to a vape pod that comes pre-filled with e-liquid, in an extraordinary amount of different flavor and flavor combinations. These pods are packaged usually in sets of two or three and sold separately from the actual vape they accompany. The initial vape as is commonplace comes with either one or two initial pods.

Ideally made and designed for the type of vape enthusiast that prefers an on-the-go solution to his or her vape lifestyle. These are made with the idea in mind that they are easy to use, hassle-free to replace when empty, and require no real maintenance on the vape itself.
Refillable – Fill Up and Go?
Whenever someone hears the term refillable or fillable, they immediately imagine some convoluted and intricate method of doing so. This however is not the case with refillable pod vapes. The opposite is true, a refillable pod is always quite easy to use and is in general a more ideal long-term solution to their vape device. A refillable pod vape is exactly that, it's a vape that uses interchangeable pods, which each have their unique small opening or inlet used to refill it with whatever e-liquid the user chooses.
It might sound like a bit more effort to use if you're in a hurry but the benefits of using a refillable pod vape far outweigh the input effort needed.
Let's Talk Disposables
When you walk through the doors of any Vaperite store located countrywide, or if you browse our website, our offering of disposable pod vapes you'll find is quite extensive. We love vapes of all shapes and sizes, brands, and models. So let's do a quick rundown of the noteworthy disposable pod vapes:
When it comes to being easy to use and dispose of, the range of VGOD Stig Disposable Pod Vapes is quite impressive. It is marketed and designed to be the epitome of an easy switch from traditional alternatives to vapes. With a sleek design and flavor variety, this is one of the most eye-catching disposable pod vapes. They are packaged and sold with 100% battery life right out of the box and are small enough to fit any sized pocket. It does stick to the vape-on-the-go ideology behind the parent company.
The newly introduced POD1K, joins the family of easy-to-use, small, stylish, and disposable pod vaporizers from VGOD. Designed with a unique approach to salt nic, it boasts a 1000 puff lifespan on each pod. As with other disposable pod vaporizers, there are no mechanical features that use auto functionality upon inhaling, adding to the ease of use of these devices.
The world of disposable pod vapes is very well known to Vaporesso. As a company that delivers vape devices that provide a hassle-free and extremely flavorful vape experience to their customers the Puffmi range from Vaporesso lives up to expectations. Being built to showcase a sleek and lightweight aluminum body and comes in a large variety of exciting flavors this disposable pod vape is a favorite among many. 
With 11 flavors that are color-coded to the vape itself, these are a great choice for either a night out on the town or a chill day in the park. The ideal accompaniment to any on-the-go vaper, the Puffmi by Vaporesso, is as good as they get.
Vozol disposable pod vapes are known to be designed to catch the attention of almost anyone. The range Vozol offers is quite impressive and the unique naming they use for their products is sure to peak your interest. The Vozol Bar 1600 disposable pod vape range comes in tantalizing flavor combinations and these like the Puffmi range from Vaporesso are stylishly colored to match. 
Using unique graffiti designs on the range amongst their other products Vozol produces top-quality disposable pod vapes. They also offer a range of pod mods to add a sense of customisation to their brand and their devices. Aptly named each of the Bar 1600 devices is set the standard at 1600 puffs which guarantees quite the long use life for a casual vaper or a short-lived swap out for other flavors for a more regular vaper.
Refillable - The Hot Topic
The first name in the dictionary of refillable pod vape device brands is Uwell. As their name suggests they do indeed know their client base very well. Pardon the pun. Offering a wide range of different products, each having a unique design or inspiration behind the styling and construction of their devices, Uwell is consistently providing new and innovative refillable pod vapes to the industry. The first noteworthy device from Uwell is the Caliburn AK2, or otherwise known as the Caliburn KOKO. Available in four very distinct and sleek metallic designed chassis, each having a liquid check window, the portable and handheld design is sure to become a favorite.
Another of their newest and proudest devices is the Caliburn A2. Not to be seen as the little brother to the AK2, the A2 is constructed from a completely different perspective. Similar in design to disposable pod vapes, the A2 however is refillable, with a drip tip cartridge and what Uwell is calling pure focus technology. This translates to instant vaping pleasure when the fire button is pressed, but Uwell also had an auto-inhale mindset and thus the A2 is a dual-use refillable pod vape. 
All of the devices created by Uwell come with a guaranteed anti-leaking built and a durable construction base.
Again we see Vaporesso in this article. This time however for a completely different reason. While Vaporesso has a well-established brand and device range, they offer both disposable and refillable pod vapes. In this section, we are going to look at the refillable pod vapes built and sold by Vaporesso. 
One of their most popular devices, the Vaporesso Zero 2. This sleek and modern refillable pod vape is built to be the epitome of minimalism design. The device itself is extremely user-friendly and the ability to refill it with any e-liquid (in a wide range of flavors), up to 3ml per pod makes the Zero 2 a fantastic product. 
Next up, the Vaporesso XROS series is the go-to for those of us that prefer refillable pods to disposable pods. Built with a water-drop inlet, dual activation mode, and a 1000 mAh battery, this amazingly colourful device, will keep you puffing for 24 hours.
SMOK NORD 50KW 
Adding to their growing line of refillable devices, the SMOK Nord 50Kw can be deceiving. The reason behind this is that both the Nord 50Kw and the Nord 2 share very similar designs and visual concepts. One of the most innovative additions to the Nord 50KW is the adjustable airflow technology. The Nord 50KW
With the 'duckbill' mouthpiece the design and ease of use, when it comes to refilling the cartridge, is a major plus for this ergonomic design.
Aiming for a refillable pod device that relies on less is more ideology. The Voopoo Vinci still maintains its steadfast position in the category of refillable pod vapes. Being built with a non-fading color chassis, and both shock and wear-proof, the Vinci is a great option for those looking for a daily device that only requires the bare minimum of customer input.
Using what they deem, gene technology, this standout feature is a breathing lamp built into the mouthpiece, it lights up progressively as you inhale and then fades just as progressively once you stop. The Vinci is one of the most popular refillable pod vapes currently.
So, Disposable or Refillable?
So now it seems only appropriate to discuss the pros and cons of both disposable and refillable pod vapes:
Refillable Pod Vapes
The pros on the side of refillable pod vapes are as follows:
Using a refillable device you gain a more personalised experience, as the cartridge can be filled with a large flavor menu and combination potential
They are generally very user friendly and come with either a one-touch button feature or an auto-draw function
Using one of these devices you have access to unlimited flavors and flavor combinations
These devices are rechargeable via a USB for a longer lifespan and usage time than disposable pod vapes
As they have this longer lifespan, they are not a large contributor to environmental damage, and the littering caused by these devices is mostly nothing.
The cons on the side of refillable pod vapes are as follows:
As they are refillable, there is a more maintenance specific part to using a device like this, but with a bit of practice this won't be a problem at all
Some would say that it is a bit inconvenient to keep refilling the pods, but in comparison to disposable pods, the effort to refill is a lesser issue than adding to the growing pile of disposable vape landfall dumping grounds.
Keep in mind that these devices are a bit bulkier and a bit larger. 
Disposable Pod Vapes
The pros on the side of disposable pod vapes are as follows:
They require almost no maintenance of any sort, simply use it and when done throw it away.
A disposable pod vape seldom has a fire button or activation, it usually works with an automated inhalation function
Pre-filled pods make the use of the device hassle-free as there's never a need to refill any liquid cartridge
As most of these are designed they produce less vapor which makes the use thereof very discreet
The cons on the side of disposable pod vapes are as follows:
There is quite a lesser collection of flavor variants. Limiting the user's choice of flavors.
Occasionally a disposable pod vape has what is known as 'spit backs', due to the lack of a purging function
Using one of these devices might result in the battery running out quite a while before the amount of liquid in the device itself is used
These devices often have small battery capacities
Disposable pod vapes, as convenient as they might be, discarding these devices once done creates more waste and general littering. The use of these devices isn't always ideal when in our modern world we aim to preserve and protect the environment, the two must be weighed against each other.
In Conclusion
We at Vaperite love all types of devices and are proud to offer all of them to the public. Taking into account everything mentioned in this article, it's easy to state that both devices have many cons and pros. However, if we as a community want to move forward in the direction of an eco-friendly vaping-focused world, refillable pod vapes seem to be the better choice. As far as operational costs go, a refillable pod is also a better long-term investment into your vaping future.
The choice however is up to you, visit one of our stores or find us online to get your vaping career off the ground as soon as possible.